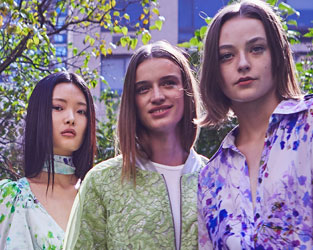 In celebration of the holiday season, The Korea Society collaborates with YUNA YANG Collection to present an exclusive members' event. Since its debut at 2010 New York Fashion Week, the luxury women's wear brand has represented the quality of traditional couture with a modern vision. The collection is featured extensively in publications such as New York Times, Elle, Brides, New York Magazine, Harper's Bazaar, Vogue Taiwan, Vogue Korea, and Style.com. Numerous Hollywood stars including Carrie Underwood, Kendall Jenner, Danai Gurrira, Brittany Snow, Ann Curry, and Julianne Hough have worn pieces from the collection.

The event will take place at YUNA YANG Collection's first ever pop-up store in the West Village. Yuna Yang, the Creative Director, will discuss her past collections which present a collage of her inspiration from Korean heritage to Western experience.

Join us and enjoy an evening of private shopping with discounts, drinks, and finger foods. Ten lucky guests will win YUNA YANG Collection's signature cloud denim pouch as a gift.
Holiday Exclusive Event with YUNA YANG Collection
Thursday, December 14 , 2017 | 6 - 8 PM
YUNA YANG Pop-up | 87 Christopher St, New York, NY 10014
Tickets: $15 Members | $25 Guests
Korea Society Fellow, Patron, and Corporate members, please register HERE for complimentary tickets.
Not a member? Click here to join.
If you have any questions, please contact Kloe Byun or (212) 759-7525, ext. 321.
YUNA YANG Collection is known for collaborations with various cultural influencers on productions such as the recent Umeda Hankyu Dept. Cherry Blossom Festival; Isetan Shinjuku Holiday Event; Met Gala with Maye Musk; Venice film festival winner 'Mona Fastvold' -'The Thief' Fashion film collaboration; 21st Century Fox films 'Water for Elephants' & 'Red Tails;' Duck Hyun Cho, respected Korean artist, for luxury department store 'Avenuel' Opening Event; and Nick Cannon's Project Canvas. .