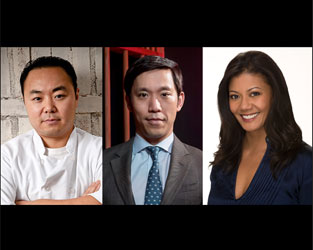 Chef Hooni Kim, the owner of Danji, a Michelin-starred Korean restaurant in Hell's Kitchen, and Simon Kim, the proprietor of Cote, a modern Korean steakhouse in the Flatiron district of Manhattan, share their remarkable and challenging experience promoting Korean cuisine in New York City and globally. Marja Vongerichten, host of the PBS TV series "Kimchi Chronicles," and the author of a companion cookbook titled, "Kimchi Chronicles: Korean Cooking for an American Kitchen," moderates the evening program.  
Bringing the Flavors of Cote and Danji to The Korea Society
Wednesday, September 13, 2017 | 6:30 PM
Korea Society Fellow, Patron, and Corporate members, please register HERE for complimentary tickets.
Tickets: $15 for Members, $25 for Non-members
Not a member? Click here to join.
If you have any questions, please contact Kloe Byun or (212) 759-7525, ext. 321.
 

Born in Seoul, Korea, Hooni Kim lived briefly in London before settling in New York City when he was 10 years old. He grew up in New York City, but headed west to the University of California at Berkeley to study biology and obtain a medical degree. Hooni eventually changed course to follow his passion for food and returned to the East Coast to attend the French Culinary Institute. He followed up his formal culinary training at two Michelin three-star restaurants, Daniel and Masa. 

Now Hooni Kim is the chef and owner of Danji, a Korean restaurant in the Hell's Kitchen area of New York City. The 36-seat solo venture showcases authentic Korean flavors in a modern setting with a focus on classic techniques and quality ingredients.

In its first full year in business, Danji received a coveted star from the Michelin Guide and has been featured in numerous media outlets in the United States such as The New York Times, New York Magazine, The Wall Street Journal, The New Yorker, New York Post, and The Village Voice.
---
| | |
| --- | --- |
|   | Simon Kim is the proprietor of Cote, a modern Korean steakhouse in Manhattan's Flatiron district. Born in Seoul, Korea, Kim began his hospitality career at MGM Grand Hotel and Casino, while studying Hotel Administration at the University of Nevada. After graduation, Kim led the front-of-house team at Blue Fin in New York City, then moved on to work with Jean-Georges Vongerichten, at both Matsugen and The Mark. During his time at The Mark, Kim met chef Christopher Cipollone, who he later collaborated with to open Piora, a Michelin-starred new-American restaurant in the West Village. In May 2017, Kim fulfilled his lifelong dream to open a game-changing Korean barbecue steakhouse with Cote. Cote marries the conviviality of Korean barbecue with the top-notch ingredients, stellar service, and sexy interiors of the classic American steakhouse. |
---
| | |
| --- | --- |
|   | Marja Vongerichten (moderator) is a former model and actress, a chef, author and TV personality. Marja was born in South Korea; adopted at the age of three and raised in America. She attended the Duke Ellington School of Performing Arts in Washington, DC, and was crowned Miss Teen USA for the District of Columbia. Marja is the host of the PBS TV series "Kimchi Chronicles" and the author of a companion cookbook "Kimchi Chronicles: Korean Cooking for an American Kitchen." Along with her husband, Jean-Georges Vongerichten, Marja opened a Korean barbeque restaurant named "Chi-Q" in Shanghai, China. Marja established a pop up Korean restaurant called "Kimchi Goddess," in partnership with ARAMARK, that she features on college campuses, such as American University in Washington, DC. Marja has created her own line of Asian food products under the brand name "Marja's Original," which will be on the market this Fall. Marja has been a pioneer in helping to introduce Korean food and culture to America. |
---