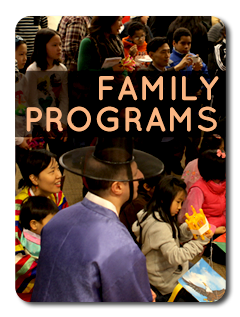 The Korea Society often hosts a series of cultural activities geared towards family engagement. Lunar New Year Festival, the major holiday in Korea, will introduce the charae: traditional family ceremony honoring ancestors, and folk games like kite making, and even a lesson on how to do the proper sebae (special bow which conveys a deep sense of respect to one's elders). Special New Year food are sampled.
The Korea Society also partners with institutions such as the Children's Museum of the Arts, Japan Society, Asia Society, China Institute, Rubin Museum of Art and the American Museum of Natural History to offer full day interactive programs for participants of all ages.
Family programs are made possible through funding from the New York City Department of Cultural Affairs.
---